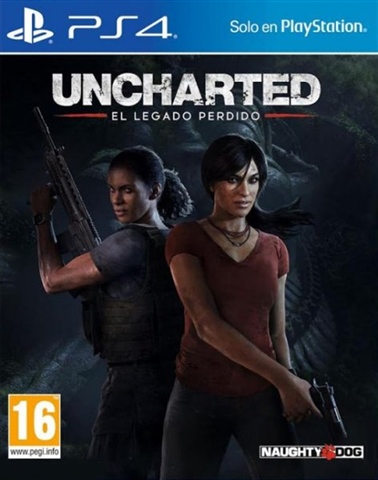 Uncharted: El Legado Perdido

(Sin DLC)

CeX tiendas venden por:
€30.00
Tiendas CeX compran por dinero en efectivo:

€14.00

Tiendas CeX dan por el intercambio:

€19.00

En la linea de valores
Verificar existencias en el almacén
Uncharted: El Legado Perdido (Sin DLC)
Una increíble aventura independiente
Del aclamado estudio responsable de grandes éxitos como The Last of Us y Uncharted 4: El Desenlace del Ladrón, nos llega esta emocionante nueva aventura repleta de acción y peligro.
Para poder recuperar un mítico artefacto indio e impedir que cierto especulador bélico se haga con él, Chloe Frazer debe hacerse con los servicios de la famosa mercenaria Nadine Ross, de quien no se sabía nada desde Uncharted 4: El Desenlace del Ladrón.
Ambas tendrán que dirigirse al corazón de las montañas de la India y aprender a trabajar en equipo para poder resolver el misterio del artefacto, abrirse camino a través de una fiera oposición y evitar que toda la región termine sumida en el caos...
---